BicieRadici
Spring pair combination

Spring days always put us in a good mood and trigger off our will to stay outdoors and even to rekindle the green in our homes – let's say, to re-green it!
It's not quite easy to carry out both in Milan, but, after a deep search, we were able to dig out the right place for you where both wishes can come true: "Bici&Radici" is the venue you walk into on foot and get out by bike, your handlebar basket full of small plants ready to embellish your home, your balcony or your garden.
At "Bici&Radici" you can find any kind of bikes for each single type of city biker.
Comfortable city bikes for a ride in town or outside town, ultra-light foldable bikes for commuters moving into and out of town, glittering vintage bikes of a high quality which have been revamped and thoroughly regenerated, the set of accessories fit for a comfortable and safe riding activity.
And once the bike has been selected, green light to roots: you'll find plants but also flowers and decorations, nice ideas such as small-sized household vegetable gardens besides an efficient green counselling service directly at your place.
Not enough yet to decide to rush there just now? Well, then have a look at the courses Stefania and Marco have put on tap (bike maintenance and home vegetable garden keeping just to mention a few) and you won't any longer do without!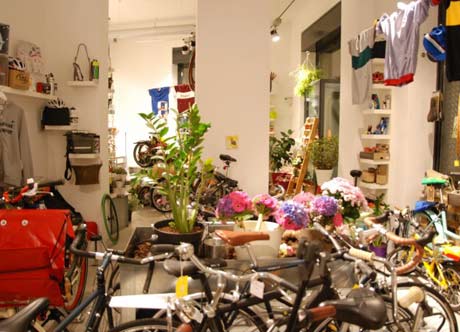 Bici & Radici
Via N. D'Apulia 2 ang. Piazza Morbegno
Tram 1
M1 Pasteur
M2 Caiazzo


Cartina