Dordogne France
The winning recipe

8 girls coming from worldwide, four days at our disposal, three very good teachers, the fascinating Manoir de la Malartrie a la Roque-Gageac and the whole Dordogne to explore: just mix all this together and you'll get the unforgettable workshop I eventually left with a good load of ceramics, presents, oil bottles, small bags, aprons with me and above all with many new friends and a rekindled love for food pictures.
It was a real deep immersion into the styling world, a triumph of suggestions and counsels, an uninterrupted exchange of knowledge and impressions which left a mark on my camera and on my mind as well.
I can't stop thinking that my performance was not first-rate, considering my skills in photography and English, but Aran (CannelleVanille), Nadia (Laporterouge) and Stephanie (stephmodo) were so generous, kind and friendly that I myself got persuaded that, despite my poor technical skills and my extremely basic equipment, my style changed during these days, and my certainties partially too.
Canada, Switzerland, Norway, Jordan, the United States, Italy … each morning we used to meet around the kitchen table as if we were members of an international summit, and we mutually enjoyed our presence, tasting the delis made by Ouafa, the fairy from Morocco who gorgeously treated us to her delicious jams, home-made cakes, croissants, different kinds of bread and nut sweets, the local deliciousness.
And after breakfast, off we went to the sets Dordogne has got in plenty: castles, markets, woods, picnic areas, farms and French picturesque villages provided the backdrop for our pictures, and enhanced our food preparation in the kitchen.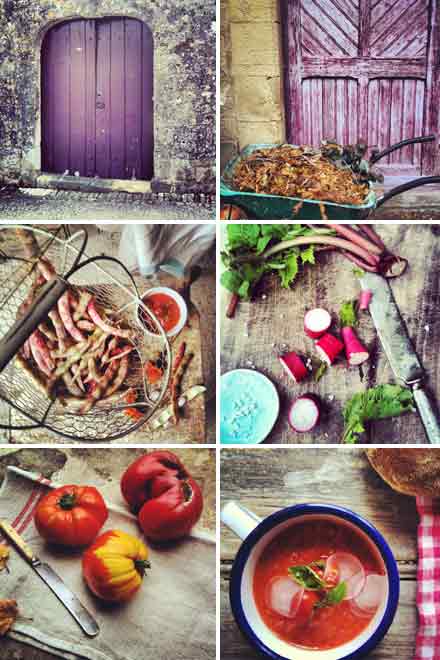 It was then time to leave, and I felt a bit sad, but each time I look for a framing, I decide on the layout of a picture, I find out a new light shade – I can't but think back to those intense and gratifying moments, and I'll be grateful to Aran for the revival of my passion.
Manu
Aran: www.cannellevanille.com
Stephanie: www.stephmodo.com
Nadia: laporterouge.blogspot.it


Dove Mangiare/Eat
La Petite Tonnelle
Le Bourg
24220 Beynac-et-Cazenac, Francia
05 53 29 95 18

Cabanoix et Chataignes
3 rue Geoffroy de Vivans
24250 Domme
Tél: 05 53 31 07 11

Le Grand Bleu
43, avenue de la Gare
24200 Sarlat
Tél : 05 53 31 08 48

La Belle Etoile
24250 La Roque-Gageac
Tél. 05 53 29 51 44


Dove Dormire/Sleep
Le Manoir de la Malartrie
24220 Vézac
Dordogne / Périgord Noir

Rent a little beautiful house under a castle:
Beautiful Cottage: www.vrbo.com/255275

Vedere/See
Marqueyssac Gardens
Beaufiful gardens and remember to try the ice cream to the little bar inside

Beynac – Castello di Beynac

Eco-musée de la noix
La Ferme de Vielcroze
24250 Castelnaud-la-Chapelle
Tel: 05 53 59 69 63

Sarlat
market-wednesday morning

La Roque Gageac

Rent canoe