Erba Brusca
Vegetable garden & kitchen
Sunday morning, inside home.
Restless children in search of the right place to be in the world. Husbands lazily spending their holiday at home, as usual.
And what about you? You hardly get along with laundry, ironing and putting away, with checking your kids' homework, with tidying up rooms and with settling some papers.
Do you know what? Give up doing anything and fly away!
You'll find the solution just off the corner – well, a bit farther on, beyond the belt highway!
A vegetable garden, the Naviglio, a lot of green and trees, a rural-chick ambience and good food, plain and seasonal.
This is the epitome of Erba Brusca's concept!
Hurry up to this half-country Milan corner and just figure out you are outside town, enjoying a trip where brunch belongs to the entertainment plan.
And – all the things you've got to do at home? Don't worry about them: they will be waiting for your comeback home!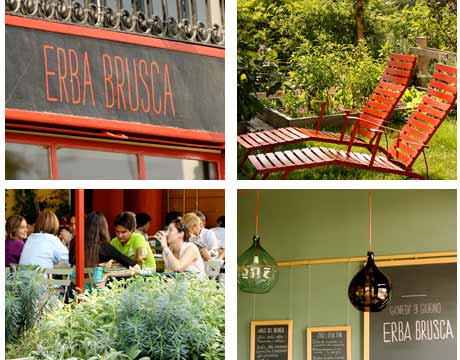 Alzaia Naviglio Pavese 286
Milano
tel 02 87380711
www.erbabrusca.it
info@erbabrusca.it
Cartina