La Belle Aurore
THERE'S MORE THAN VINTAGE!

If you are on the lookout for the genuine Milan, the one of the true Milanese people or of those who have become such, the Milan where you can drink but not in the happy-hour fashion, the Milan of the people who work – but not in the marketing area… if you do, please do stop here, all the better if it's aperitif time.
Rude enough to tone down the snobbish conduct of the new "bauscia", as kind as needed to let you know that, if you behave properly, people will love you here, the way only a Milanese or an alleged one is able to.
The environment – needless to say – is rough and in the working-class style, but that's the reason why it is fascinating and intriguing. Formica tables and chairs, marble-chip floor tiles, not a single hint at a fake design or at a trendy vintage comeback: all is here authentically period furniture, "old-aged" in the noblest sense of the word. Service and menu are the same, although very pleasant as well, as drinking a "bianco" and eating chips from the bag will be really enjoyable.
You'll be only puzzled if you won't meet Gianni Brera sitting at the table behind you or if you won't see Jannacci while raising your eyes.
Do not go there in your 12-cm-heeled shoes and in your Sex&TheCity version: you'll run the risk to be looked over from head to foot, and definitely not because they are looking up to you, rather because they are looking down on you…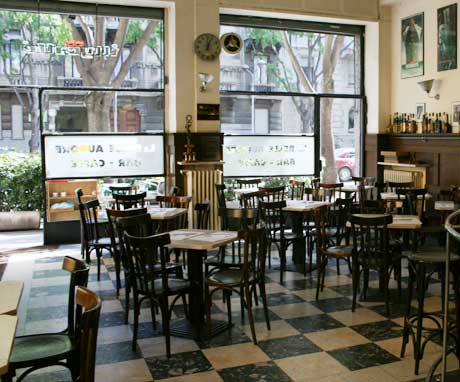 La Belle Aurore
Via Privata G. Abamonti, 1
02 2940 6212