Palazzo Castiglioni
Palazzo Castiglioni



Milan is a nice city: if you take your time and raise your eyes you'll find out most charming corners, and if you are able to forget traffic and its frenzied pace you'll discover it is a wonderful art city.
Watching at it from a different point of view is certainly worth while.
So, here you go with a new section of MilanoSecrets: you'll walk along the shopping trails with a new twist, artistic and cultural, and you'll soon become the best-informed, the most attentive and the most stylish of your group. Of course (but this is a secret we won't disclose to anybody) we're going to pick up only those palaces, churches, monuments and museums which are located close enough to cool shops and windows!
We love culture, but … our wardrobe deserves attention too!
Our art pieces are written by Fabio, a passionate fan of art matters and a great Milanese walker, but all references of some significance are validated and confirmed by MilanoSecrets!
PALAZZO CASTIGLIONI
Palazzo Castiglioni is located in Corso Venezia 47, and not far from there the Nobile Bistrot (the Sadler's one) has been recently opened; and then there is also Madina and My Style Bags.
I need an eye-shadow with an unusual colour to make my eyes look even more magnetic, and then I'd like to have a new customised bag, which will be super if I'll be able to match it with the eye-shadow. Well, later I'd like to drop in for a quick snack at the new Sadler's Bistrot: it has been open for a few months now, and I can't turn out to be the last one to go there and taste its delis.
Do you know what I'm gonna do? I'll go and visit Palazzo Castiglioni!
Popping across to Madina first to get the most glamorous eye-shadow ever, and then to the very nice micro-shop 'My Style': ever seen it? Bags in any size and shape, coloured in the most eye-catching nuances, customisable with your own name or with an embroidered detailing which will turn your Bag into a unique piece, your own and no one else's.
I won't be totally lost in shopping anyway!
According to Fabio, the liberty style has got an erotic appeal, and he depicts it to us this way:
One of the most beautiful expressions of the Milanese and Italian liberty style is to be found in Corso Venezia 47: it is Palazzo Castiglioni, the today's headquarters of Confcommercio.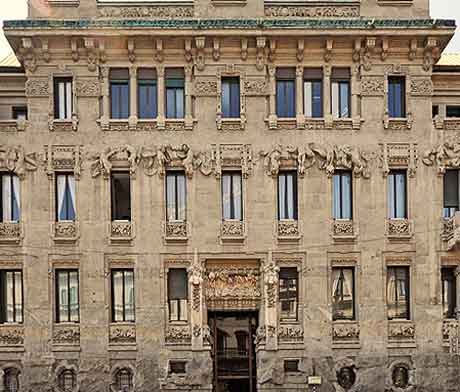 It was then a real defiance of the late XIX century respectability, and it was the wish of a major entrepreneur, Ermenegildo Castiglioni, designed by the then thirty-year-old architect Giuseppe Sommaruga.
Got to completion in approximately two years, it was sensationally first opened in 1904 (more or less).
Some time later the particularly racy portal, featuring two excessive female nudes on the B side, was somewhat "revised", but the palace is still a real "standalone piece" in the liberty style, also called Art Nouveau or Jugendstil.
The two different fronts, the outer one overlooking the street, and the inner one overlooking the classical internal courtyard, are a manifesto of the Italian take on an international style.
The footing is made of rough rustication and mimics the natural shapes of the rock.
The three upper levels look very plain, although they feature a wealth of XVIII-century-style stucco embellishments representing puttos, leaves and flowers. The top level looks light thanks to a couple of small internal balconies and false classic columns lending the window tiers a regular scheme.
The main entrance door and the round windows placed on the footing, which makes up the ground floor, are sheltered behind wrought iron bars which are in themselves worth visiting: they are prestigious top quality and design work pieces crafted by the brothers Ghianda (they do deserve being mentioned!).
A few meters far from there, at the intersection with Via Palestro, there are many further remarkable places, maybe less known though: wonderful palaces, such as the neo-classic Palazzo Saporiti dating from the early XIX century, featuring enormous columns, and also Palazzo Serbelloni.
On the other side you can find Via Palestro gardens (Milan too has got its green spots!), a perfect resting place.
At any rate we are just a few hundreds meters far from the "fashion area", if you want to alternate art with shopping – which is not at all bad, really!
Palazzo Castiglioni
Corso Venezia 47
Madina
Corso Venezia 23
My Style Bags
Corso Venezia 23
Nobile Bistrot
Corso Venezia 45
Cartina