Panini Durini
Sandwiches & Coffee
Long and narrow as any true Milanese downtown venue.
White in colour and wooden in decor as any of the places sorted out by Manu – and by no one else.
Refined in details and charmant as any place so dear to all MilanoSecrets' friends shall be.
If your are in the heart of downtown and you feel like having a sandwich, what else should you wish for?
The Durini sandwiches are delicious to bite into, fully stuffed with tasty things accurately selected and teamed up with vegetables and fruits for a dessert which is light and good.
This is the right place to stop for a break between a shopping session in Montenapoleone and a stroll in Corso Vittorio Emanuele, looking for the dress that doesn't exist.
Nevertheless, we do love carrying on our research … and all the more in this place, where shopping seems to be a must in your existence, and where shop windows follow one another like in a big funfair for fashion victims.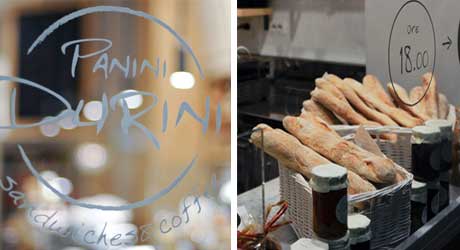 Via Durini, 26
Tel 02 76024237
e Largo Donegani 3
Tel. 02 65560073
info@paninidurini.it
www.paninidurini.it
Open: 7.00-20.30
Delivery contac:
02/76024237
Cartina