Sushi B
FUSION/JAP

(from our special envoy, Davide Negri, chef)
Milan is definitely experiencing a new wave in the catering field and, in a time when medium-high level restaurants are mushrooming, the kick off of a new fusion Japanese restaurant is not a surprise. These were the premises when I first went to Sushi B – never had my predictions been such wrong, and I was happy for this.
The venue looks extremely unfussy and plain: a titbit is the entrance bar meant for the aperitifs; on the first floor the restaurant can seat up to about fifty people, with tables at a comfortable distance from one another and very snug armchairs. You can also eat at the teppanyaki desk where a clear glass is the partition element between the cooking area and the customers in order to prevent any guest to unpleasantly smell like food when they leave the place. In the basement the pretty wide sushi bar is located, featuring sensually enfolding small armchairs. And of course this neo glam temple couldn't but host a strictly private vip lounge with a chef's table seating up to ten people.
The menu is very rich, maybe a bit too much considering the 100 different dishes on tap.
Let's start with a fillo dough cigar filled with anchovy paste, really delicious and tasting a bit rustic, a roll of red yuzo-scented tuna tartare, super, the terrine of fat liver with eel in teriyaki sauce, a delicious harmonious mix, a brief tasting of sashimi and sushi which are really far from their dull Milanese fakes, a superbly made duck breast teamed up with its own liver – the only flip side being the size which is a bit too large to be picked up with your chopsticks. Top notched are the lobster rolls as well, where the shellfish was perfectly made, soft and juicy. The tasting went on with some hob-cooked wagyu meat alongside some salad dressed with sesame oil and fresh yuzu: the meat was absolutely top quality, a sort which can hardly be found.
Well, in a time when a lot of restaurants are forced to be like "I'd like but I can't", the newborn Sushi B sports an utterly enviable quality of raw materials and of cooking techniques. All the dishes we tasted did meet the expectations of the venue, and the great raw materials were enhanced and not downgraded by the highly skilled cooking technique, thus allowing us to taste a top rank cuisine.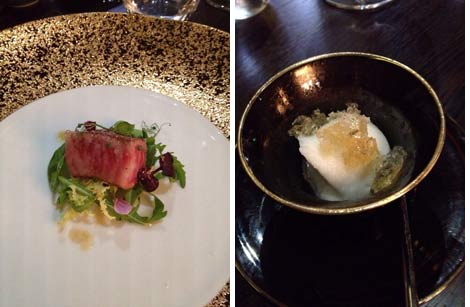 And if these are the chef's words, who is so fond of Japan that he goes there twice a year to pick up the latest cooking trends, we can't but trust him! All the more as it is one of the newest venues in town and it hasn't become so famous yet to get flooded with gourmets and foodies of any age. You are not going to miss this advance opportunity, aren't you?
Ristorante Sushi B
Via Fiori Chiari , 1/A
Tel. 02 8909 2640